MegaChips has established a strict quality assurance system to deliver quality products.
In close cooperation with manufacturing partners in Japan and overseas, we have established a robust quality assurance system that enables us to respond rapidly to unexpected issues, while choosing the best solutions for customers. We thus provide corporate customers with reassurance and reliability comparable to manufacturers that have their own fabs.
Internally, the quality assurance department participates in examinations from the product planning stage and rigorous management is applied to prevent any quality problem.
This is how we provide customers with superior solutions featuring high quality in addition to cutting-edge technology.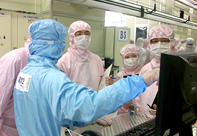 Quality Assurance
Acquisition of ISO certifications
ISO9001:2000
Registrar
Registration date
Approval Certificate NO.
Japan Audit and Certification Organization for Environment and Quality (JACO)
March 27,
2006
QC05J0270
ISO14001:2004
Registrar
Registration date
Approval Certificate NO.
Japan Audit and Certification Organization for Environment and Quality (JACO)
February 23,
2004
EC03J0342