We develop unique products utilizing our core technology
MegaChips is a fabless manufacturer with strength in its product planning and design capabilities. Our own technologies are significant assets and a source of competitiveness. Our technology-based system LSIs as well as the modules and software contribute to the development of unique products and to the differentiation of customers' products.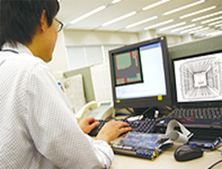 Lineup of our technologies
The following shows some of our key technological solutions to customers issues.
You can scroll to the right
2. Image processing Tech.

Low Latency Codec
Near Lossless Compression(NLC)

2-2. Image Signal Processing

Camera Image processing, Pixessor-IP

Moving Subject Recognition
Coin Recognition
Particle Filter

3-1. Display Controller & Communication IF

Image Transmission Interface

4. Power Supply Development

PWM
High Accuracy Oscillator
Multi-Function AXI bus master IP

5-2. Verification Know How

AMBA bus verification environment
FPGA Prototyping

7-1. Reliability Assurance

7-2. Out-sourcing Control

8-1. Device Driver development

9-1. Synthesis, DFT, Layout

9-5. Package Development, SIPI analysis

9-6. ESD (Gun) development

10. Improving Development Efficiency

10-1. Evaluation System for PLC

10-2. Software Development (Hi Reliability)