Established as Japan's first fabless LSI company in 1990, MegaChips has developed numerous world-first technologies.
We invite you learn about the founder of MegaChips, who continues to challenging himself throughout his life.
Chapter 1
The Early Years
1.Overcoming a Childhood Plagued with Illness
"You almost died"
Masahiro Shindo was born in Niihama city, Ehime Pref., in 1941. When he was in the third year of elementary school, he contracted a serious illness that required three operations. At the time of each surgery, the doctor told his parents to be prepared for a bad outcome, but Shindo miraculously survived them all. However, as an after effect of the general anesthesia he lost most of his memory this caused great concern for his family and everyone was very worried about him.
Shindo's parents just wanted him to grow up to be healthy and never told him to "do your homework" or put any demands on him. They were just really happy when Shindo played outside full of energy, so he played after school in the mountains and rivers until it got dark to stay outside then he came home. This environment enriched his sense of adventure, determination and independence. His mother often said to him "You almost died; so you can get through anything"; this greatly encouraged him.

Shindo did not do well in elementary school, but he did not care. In his first year of junior high school, his memory started to return and Shindo did so well on an important test that his teacher complimented him and said, "You can do it!" This experience motivated him to study hard, and he went on to a distinguished local high school.
2.High School and University Days
Interest for Chemistry
While he was attending high school, Shindo became very interested in chemistry and in doing experiments. The more experiments he performed, the greater his fascination in chemistry. His interest continued to grow, and he became determined to study chemistry at a university. Shindo's family did not support his desire to go to a university they wanted him to work and contribute to the household. This was necessary since his parents were already bearing the financial burden of his brother's tuition. At this time, Ehime University opened a new Industrial Chemistry department. Shindo's high school teacher stepped in and persuaded his parents to let him attend saying the tuition fee was significantly cheaper than that of high school and that the university is within commuting distance of his home. Shindo's wish to attend the university and study chemistry was about to come true.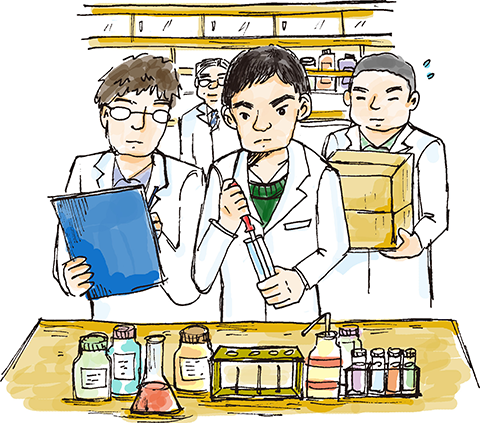 Shindo was very optimistic when he entered the university as a first generation student. However, at the young university there was neither equipment for experiments nor a syllabus, these would have to come later. Shindo stepped in and helped his professors equip the labs as well as prepare the experiments that would be needed for the classes. From this experience, he found it challenging and rewarding to create things from scratch.

After his graduation, Shindo was expected to work for a large chemical company such as Sumitomo Chemical Co., Ltd., Teijin Limited or Toray Industries, Inc. However, his professor gave him advice that he would have fewer opportunities in a large chemical company which is already full of excellent chemists, and recommended he go to a smaller company where he would be highly appreciated and could make a bigger contribution. Since Shindo was working in the laboratory of electrochemistry, he decided to work for Mitsubishi Electric Corporation.