Chapter 3
The Road to Damascus
5.Moved to Ricoh Company, Ltd.
Launch of a Semiconductor Division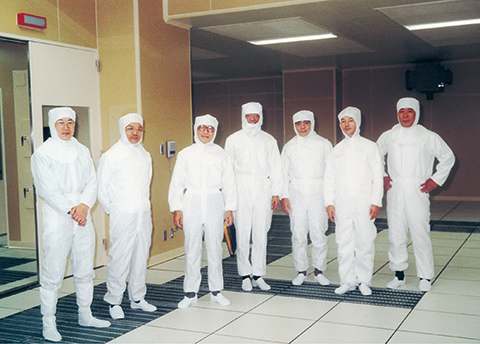 In 1979, Shindo joined the Ricoh Company, Ltd. At that time Ricoh was leading the copier industry and was focused on the development of in-house capability for the production of semiconductors. The company built the Ricoh Electronics Development Center at the Ikeda plant in Osaka in 1981 and entered the semiconductor market on a full scale.
Shindo got involved with projects and activities at this new development center and dealt with a variety of business operations such as recruiting engineers, fostering and educating human resources, designing the assembly line and developing the semiconductor processing technology. Since this was Ricoh's first attempt to both manufacture and sell semiconductor devices outside of Ricoh, it was not easy for them to win orders. Even the Office Automation Equipment Division of Ricoh hesitated to use the semiconductor products from the new development center. With the pressure on him, Shindo had no choice but to get personally involved with the sales effort and began to expand sales around the world, eventually expanding sales activities into the U.S.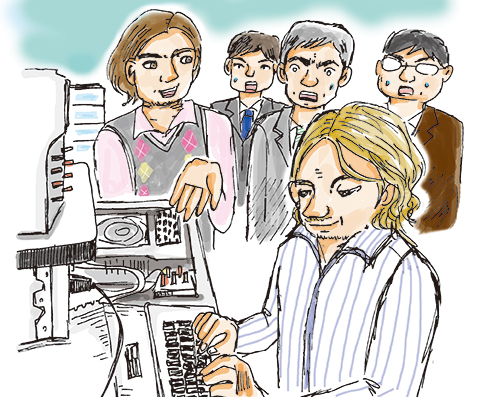 At that time in the U.S., fabless semiconductor companies had successfully emerged with their unique business model of focusing on the design, development and sales only, outsourcing the manufacturing to outside foundries. During this time, Shindo had a chance to meet with VLSI Technology, Inc. (VTI) that was a typical fabless company outsourcing production to the manufacturers in Japan and Taiwan. The encounter with VTI triggered the official start of Ricoh's semiconductor business as the foundry for VTI.
6.Fateful Encounter with Nintendo Co., Ltd. (1)
The Concept of Nintendo
In 1980, there was major movement in Japan as well. Nintendo was planning to develop an in-home-use game designed for families. This product was intended to expand their future growth base following their big success of "Game & Watch" in the mobile game console market. Nintendo wanted to partner with Ricoh and have them provide the semiconductors for these new products.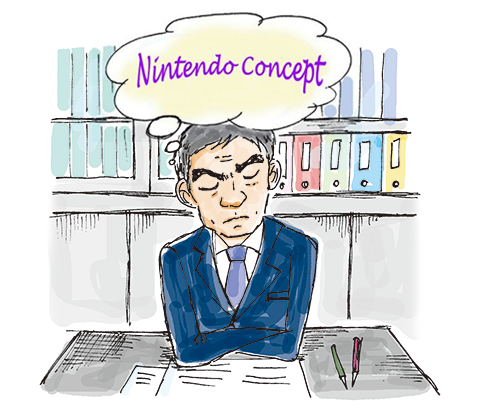 Nintendo's concept and business philosophy for these new games were very clear. Because they were for children, the price had to be less than 20,000 yen so that children could buy one with their pocket money. The new gaming machines were specialized and required at least two LSI chips each. Requirements included:
Make the games keyboardless for easy use by children
Prevent competitive products from emerging for more than three years
Use the sounds and moves of Donkey Kong from arcade games
Deploy various gaming software in one platform
The concepts for the new Nintendo games were very clear. Impressed with these ideas, Shindo started an internal review of this project at Ricoh.
7.Fateful Encounter with Nintendo Co., Ltd. (2)
Challenge the Impossible
The Ricoh Engineers response was totally negative they were unwilling to accept the Nintendo concept that Shindo had brought back with him. He wanted to change the situation and submitted the ideas that he developed to implement this project:
Get a control board used in arcade game machines and remove the LSIs used for image processing, CPU (Central Processing Unit) and memory
Take microscope photos of collected LSIs
Cut-and-paste necessary parts in approximately two meters square size
Place 6502 8bit CPU, which was the smallest in the world at that time , as the core part
Scale it down to 20cm square using a copying machine
The ideas above were exactly the concept to create a system LSI. Shindo presented the idea to Nintendo and received positive feedback. He agreed to design a two-chip system LSI. However, when the design engineers saw the scaled down design of LSI, they all said it was extremely difficult to integrate large scale circuit on a silicon wafer of around 1cm square. Shindo suggested organizing a joint development team with Nintendo members. They eliminated unnecessary functions to reduce the circuit size and succeeded in integrating the complete system with two chips.
With this great achievement, Nintendo released the "Family computer" priced 14,800 yen in 1983, and it was a great hit. The semiconductor business of Ricoh grew rapidly, and in 1990 the number of employees grew to 1,100 and the annual revenue reached 400 billion yen.