 Who We Are
Business Model
Highly Competitive System LSI — Fusing LSI and Application Knowledge
For thirty plus years, MegaChips has devoted itself to system LSI-related R&D as our clients' development partner, while, at the same time, acquiring knowledge of the use of services and final products that system LSI is installed. The fusion of these usages with the LSI, both of which MegaChips has mastered, led to the creation of the system LSIs that contributes to customers' problem-solving and enhanced competitiveness.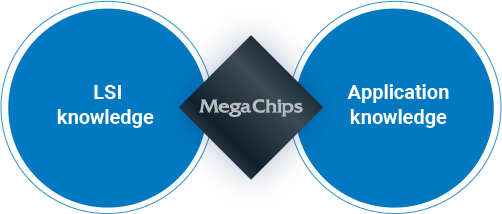 Broad Support with Maximized Flexibility of the Fabless Model
As Japan's first fabless manufacturer, MegaChips meets the high performance and quality standards required by its Japanese customer, flexibly selecting optimal facilities and production technology both in Japan and overseas tailored to the LSI features and functions. Even with the current global expansion, MegaChips provides its customer base a highly reliable system LSI based on a stringent product quality assurance system that uses broad know-how ranging from planning and development to production control and quality control.