 Who We Are
R&D
Creating Unique Products
by Fusing Analog and Digital Technologies
MegaChips meets customers' needs based on its proprietary technologies and puts all its effort into the research and development of application technologies to distinguish our own products from those of competitors.
To ensure our superiority and uniqueness through research and development, we promote the protection of our own intellectual property rights.
R&D Policy:
Provide system LSI and solutions with our unique analog and digital technologies.
Technology Areas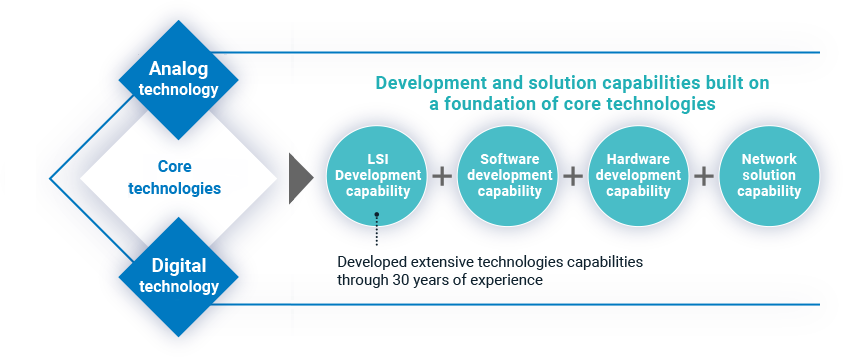 Analog
technology

We have analog technology, above all, proprietary high-speed, interface-related technology, and working with the development of products including G.fast, the global standard of ultrafast broadband technology, and Ethernet PHY for industrial equipment, which will contribute to the infrastructure supporting the future network society.

Digital
technology

Amidst the rapid progression of digitalization of electronic products, we have supported the development of digitalization in "compression technology for images and videos" and "security technology". Currently, we are developing products for IoT devices and will contribute further advancement of technology.
Major R&D themes
Game software storage LSI
LSI for wired (twisted pair cable, coaxial cable and power cable) multi-hop communications
Intellectual property and LSI for optical communications
Intellectual Property Strategy
Since MegaChips is a fabless manufacturer, our unique ideas, expertise, and other intellectual properties derived from R&D activities constitute the foundation of our competitive advantage. Accordingly, protecting our intellectual property rights is vital to enhance competitiveness and raise growth.
We have filed patent applications such as high-speed wired communication, security for game consoles and image recognition.